Are you in dire need of inspiration and assistance for your next big garden renovation? Well look no further because we have everything you need right in this blog, including fun garden ideas AND some plant suggestions to go with it!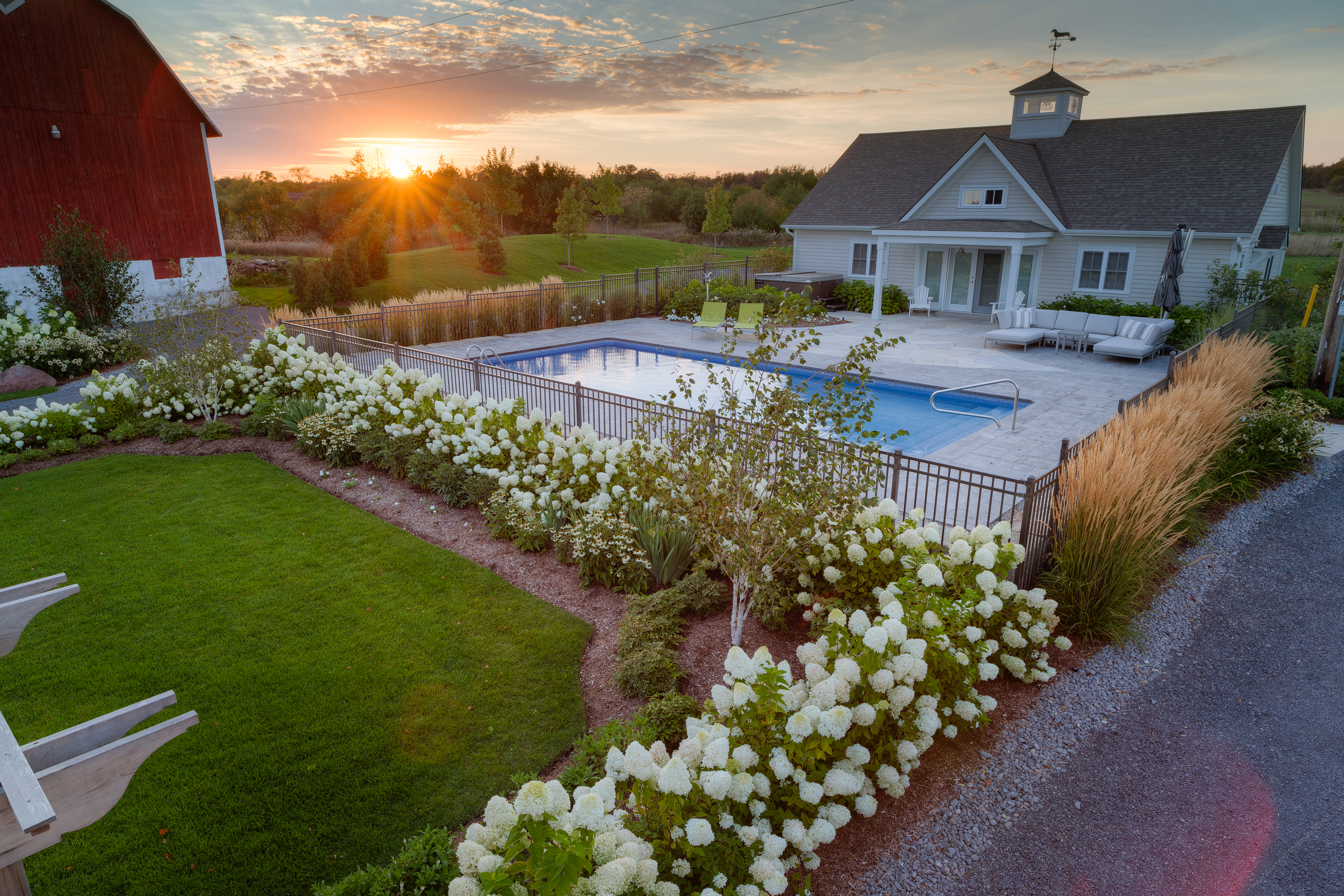 Monochromatic/ single colour gardens:
Monochromatic gardens make use of a single colour palette in order to create an aesthetically pleasing display. Perfect for achieving an elegant look such as the above property, inspired by Sissinghurst's White Garden, our client made the choice to maintain an all white colour palette with a wide variety of flowering perennials and shrubs, providing beautiful flowers throughout every season. This choice resulted in a sophisticated garden that appeals to the senses. Whether you go with white, pink, purple, yellow or whatever colour your heart desires, a monochromatic garden will provide an elegant and striking look for your property.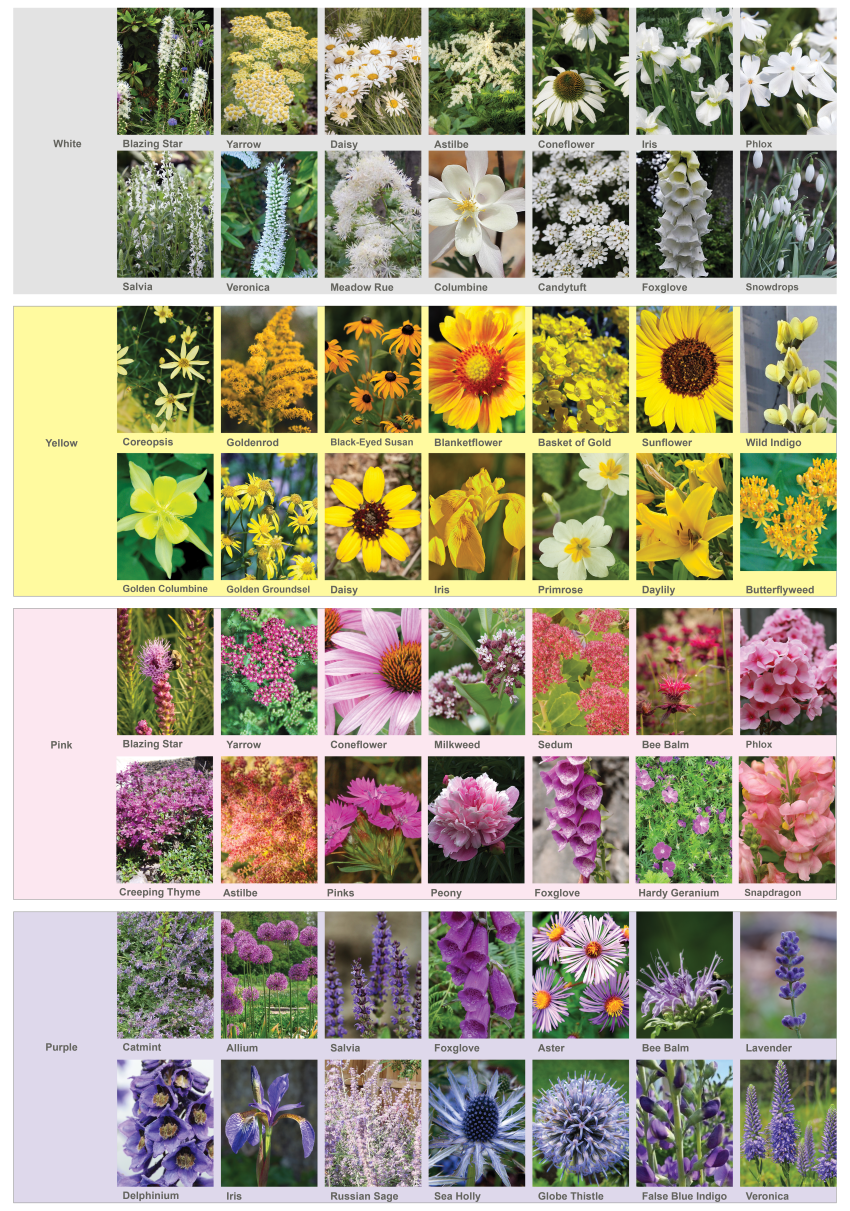 Medicinal / Apothecary garden:
Many of the flowers we use to decorate our landscape are packed with vitamins, antioxidants and medicinal properties. Traditional apothecary gardens are organized by medicinal use and labeled accordingly, the plants in these gardens can be dried and made into teas, honey, oils and can even be ground down and put in capsules . Although these plants are not a substitute for prescribed medicine they can help improve body function and mild colds:
Meadow gardens:
If you are looking for a garden that is affordable, sustainable, low maintenance and visually stunning, a meadow garden might be for you! Meadow gardens are the creme de la creme when it comes to sustainable landscaping, often using native, pollinator friendly and drought tolerant plants, this type of garden helps support biodiversity while reducing the need for resources to maintain it. Also, with the right seed selection you can have beautiful blooms all year round!
Cottage Garden:
If you frequently browse socials and enjoy getting home inspiration like us, you might have seen or heard the term "cottage core". This specific style/aesthetic has been all of the rage on TikTok and Pinterest, from clothing, interior design, lifestyle and even landscapes! Drawing inspiration from 18th century design with a delicate and feminine edge. These romantic gardens are often plentiful and full of life, including various flowering plants of different size, shape, colours and texture, even including vegetable plants and trees. For the cherry on top include decorative elements such as garden ornaments, trellises, fountains and timeless furniture. This style of garden provides your property with a slice of the charming countryside.
Sensory Garden
The best part about having a garden is enjoying the beautiful sights and smells flowers provide, so why not take it a step further and ignite all your senses with a sensory garden! Sensory gardens are great as a teaching tool for young children and can even be used for horticultural therapy which has been proven to have a positive impact on your overall mental health, from mood to memory. Here are some ways you can appeal to the sense through gardening:
Plant a variety of blooms and foliage, varying in size and texture for visual stimulation, or even include decorative elements such as garden ornaments or string lights for night time interest.
Plant flowers/herbs with strong fragrance to entice your nose
Plant edible flowers/herbs or even include fruit/veggie producing plants, nothing beats a freshly picked snack to satisfy the taste buds while out in the garden.
Incorporating sound can be as simple as listening to the wind brush through the leaves on your trees or listening to the tune of song birds. You can even take it a step further by including a flowing pond or even windchimes in your garden for those extra relaxing sounds.
Nature itself is full of different textures that are waiting to be explored, you can appeal to the touch by incorporating a variety of materials such as plants and rocks that you can touch and hold in your hands.
Rose garden
There is no flower that is more well known around the world than the rose. Whether you love them or hate them (mostly due to their intense maintenance requirements) there is no denying the visual beauty they bring to our garden beds. Although a garden dedicated to one type of plant seems underwhelming, roses come in a large array of colours and forms, such as shrubs, miniature rose bushes, climbing roses etc. So you are never limited to one colour or appearance. It's also worth noting that they have extensive history, which makes them even more interesting.Being the most popular flowers since Shakespeare and even time itself, according to archaeologists, fossilized roses are believed to date back 35 million years and were first cultivated 5,000 years ago in China . With that said,not only are roses visually stunning they also stood the test of time which earns them the center spotlight in our gardens.
Since Rose varieties are so vast we provided the species that are suitable for our specific hardiness zone:
Hardiness Zones:
Canada Blooms Rose: 4a
The Fairy Rose: 4 - 9
Chinook Sunrise Rose: 3B - 8
Never Alone Rose: 3a
Iceberg Rose: 5 - 9
Praire Snowdrift: 2
John Cabot Rose: 2b