In today's fast-paced world, optimizing space and organization within our living and working environments is crucial. Incorporating built-in storage solutions into your living spaces is an excellent way to keep your home clutter free, while maximizing the functionality of your spaces. Whether you're looking for custom closets or integrated shelving units, built-in storage options can not only help you stay organized, but also enhance the overall look and feel of your space.In this blog we will explore 7 ways to incorperate built-in storage in your living spaces.
Under-Stair Storage:
If you have a two-storey house there might be a chance that your main staircase has empty space underneath or perhaps it's already being used as a storage closet. This often-overlooked area can be transformed into a functional and stylish storage solution. By installing built-in shelves, drawers, or cabinets, you can create a space to store shoes, coats, backpacks, and other everyday items, keeping your hallways or entryways spotless and clutter free.
Mudroom storage:
The entryway or mudroom is the first thing that greets you and your guests when you enter your home. It's a space that can quickly become cluttered with shoes, bags, and outerwear, making it difficult to maintain a tidy and organized home. Built-in cubbies and benches offer a practical storage solution that not only keeps the space organized but also adds a touch of charm to a home's entryway.
Built-in wall Shelving / Home library
Do you require a spot to host your collection of books and decorative items? Or would you like a designated area for all of your memorable knick-knacks and keepsakes ? Rather than opting for more furniture to accommodate these items, built-in shelving provides a stylish space to house your books and decor while maximizing the amount of space in your living areas, making it clutter free. Built-in wall shelving can be customized to fit the dimensions of your wall, making it a perfect fit for any room in your home. With the right paint color, it can even stand out as a design feature in itself. You can choose from a variety of materials, such as wood, metal, or glass, to match your home's own personal style.
Bedroom Wardrobes:
When it comes to organizing your bedroom there are often a lot of items to accommodate, such as clothing, shoes, accessories, perfumes, linens etc, that's why proper storage is crucial. But instead of opting for freestanding wardrobes, have you considered building in closets or wardrobes along one or more walls? Not only does this provide ample storage space, it also maintains a streamlined look.
Window Seat Storage:
Who can resist a cozy window nook? There's something about this particular home feature that just screams comfort and relaxation. It's the perfect spot to curl up with a good book or to simply gaze at nature in the comfort of your interior. But did you know that a window seat can also be a great way to add some extra storage to your home? You can add built-in shelves or drawers to store books, blankets, or other items. Or, you can simply use the space underneath the seat to store larger items like pillows or extra bedding.
Another great thing about window seat storage is that it can be a great way to add some personality to your space. You can choose to upholster the seat in a fun pattern or color that matches your decor, or add some decorative pillows to make it feel more cozy and inviting.
Integrated Media Storage:
For your main living room or basement entertainment areas, consider incorporating built-in storage for media equipment, such as TVs, gaming consoles, and audio systems. Concealed cabinets can hide the clutter while allowing easy access to your devices.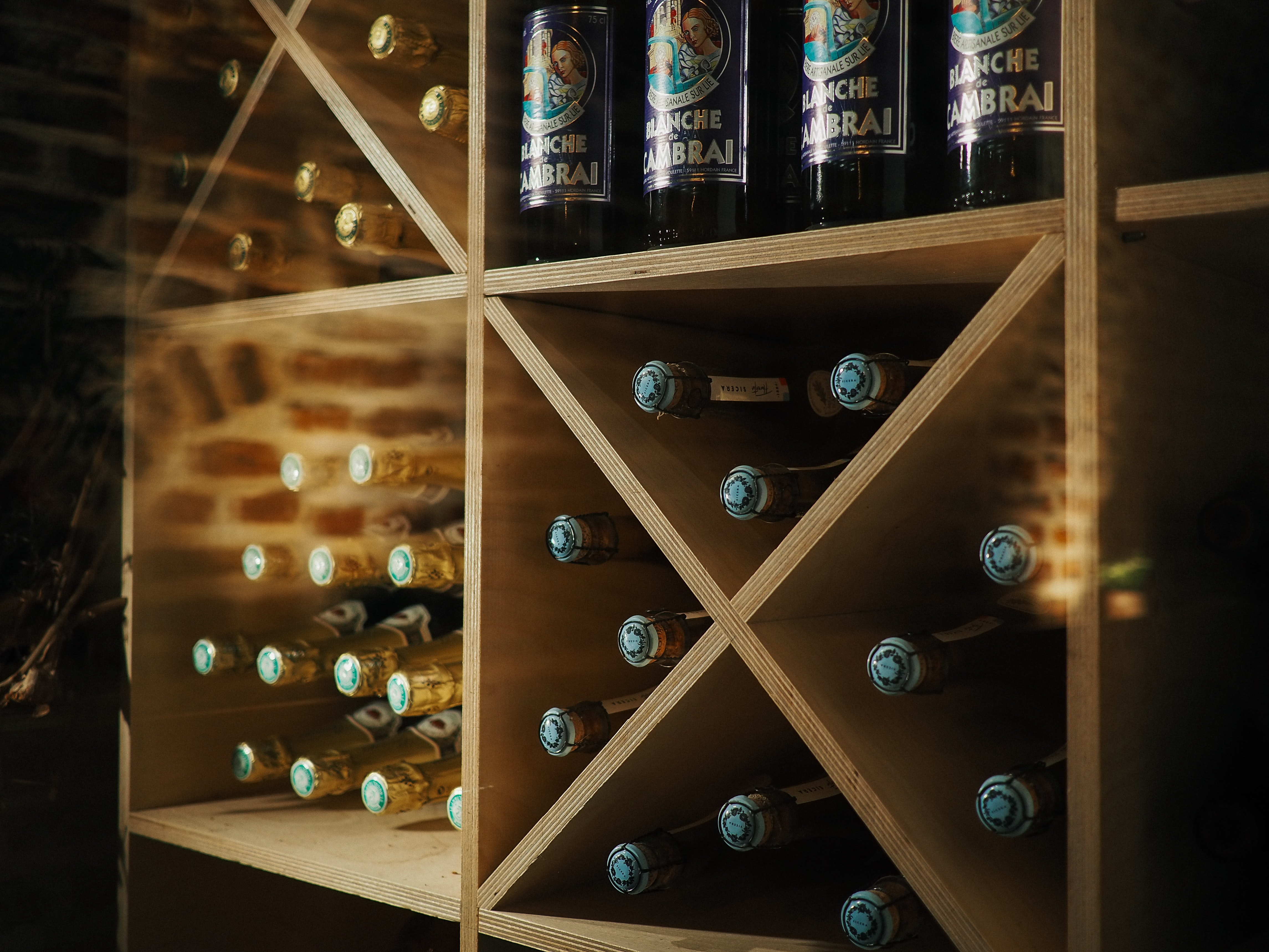 Built-in basement wine cellar
Do you fancy yourself a wine connoisseur? Do you need a safe and temperature-appropriate room to store some of your finest Prince Edward County wines? Basements are often cooler than the rest of the house so it's the perfect foundation to set up a temperature controlled cellar. You could even take wine and cheese night to the next level with a lounge and bar room next to your cellar.
Remember, when incorporating built-in storage, it's essential to consider the overall design of the space, the materials used, and how the storage solutions will integrate with your daily activities. Customizing the storage units to fit your needs and the available space will ensure a seamless and functional addition to your interior.