Although summer is the ideal season to show off your home's curb appeal with lush greenery and colourful blooms, the holiday season brings about the perfect opportunity to grab the attention and impress your guests with picture perfect Christmas displays. Plus, it adds a little bit of cheer to a bleak winter landscape.
Picture this, your once vibrant lush landscape is now covered in a blanket of snow, showcasing a beautiful winter wonderland, your home, trees, fence and gardens are lit up with twinkly string lights, adding a whimsical touch to your landscape. Window boxes and the steps leading up to the front door are decorated with planters filled with various evergreens, winterberries and birch branches. Your front door is framed with twinkling lights and a decorative garland, with a christmas wreath perfectly centered on the front door. It's a welcoming sight that instantly lifts your spirits.
If this visual sparked your holiday spirit, then this is your sign to add a little bit of cheer to your landscape and to make your exterior just as festive as your interior! Here are some ways you can add seasonal decor to your landscape just in time for the holiday's:
Christmas displays for your landscape:
Lights beyond the house: Decorating homes with string lights has been a holiday staple for many years and they are great for lighting up and adding a whimsical appearance to the exterior of your home, but why stop at your house? Take it a step further and bring your landscape back to life by lighting up your gardens, trees and pathways with string lights, or really up the ante by decorating your front lawn with reindeer and bulbs. Providing a wonderful view from the outside and the inside of your home.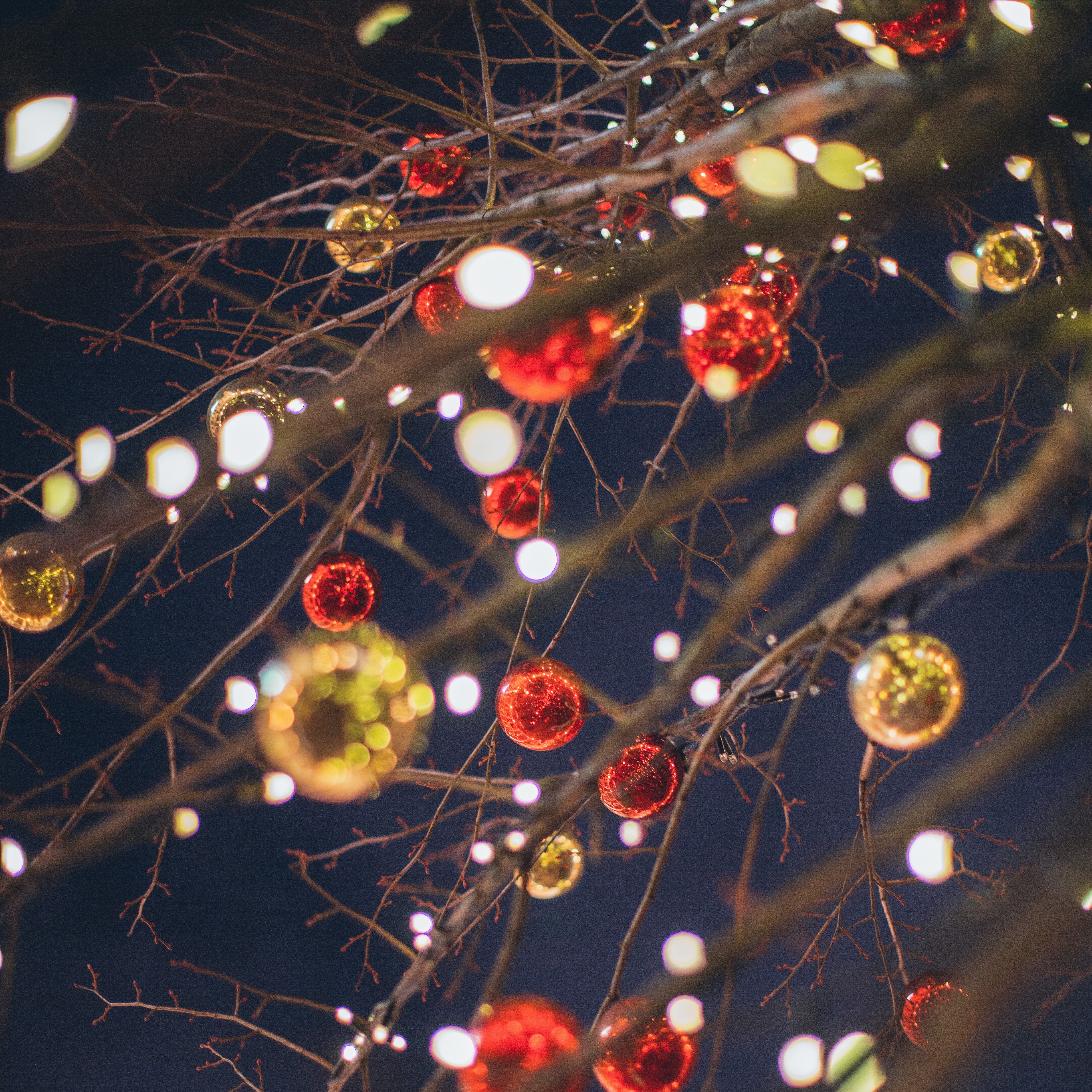 Outdoor tree decorations: Ornaments aren't just for Christmas trees! Do you have leftover Christmas tree bulbs? Make the most of your unused decorations by incorporating them in your trees and shrubs, the perfect way to bring colour back into your landscape and will create a magical holiday scene.
Christmas displays for entryways:
Holiday Planters: Bring some green back into your white winter landscape with festive christmas themed planters. Whether you are using window boxes or pots, the addition of Christmas foliage such as; evergreens, winterberries, birch branches, pinecones and even large bulbs will add a touch of colour, texture and charm to your home. We have a team dedicated to creating these lively and luscious displays who will be happy to create custom winter floral displays for you. Call today to book yours 613-476-1181.
Garland: Include seasonal foliage into your landscape by draping or wrapping garlands on railings, posts, around your door and window frames. You can keep it simple and elegant with a bare garland, or you can add extra embellishments such as lights, bows, berries and bulbs. It's easy to install and great for softening the exterior of your house while adding a magical appearance.
Christmas Wreath: Don't want the struggle of hanging up lights or short on time? Keep it simple by hanging a Christmas wreath on your front door, it's an easy way to include holiday elements without the fuss. But if you are feeling extra creative you can DIY your wreath at the Sandbanks Winery at their holiday wreath making workshop which they are running on Saturday's and Sunday's from November 19th to December 4th.
Front Step/Porch Decorations: Who isn't a sucker for a decorated front step? Whether it's autumn pumpkins and mums or winter holiday decor, an embellished front step takes your curb appeal to the next level, and adds visual impact to empty spaces around your door. This type of decor can include anything from fun doormats and lanterns, to holiday themed props and signage (such as the large nutcrackers shown above), and winter themed props (such as a vintage sled, or ice skates that hang from the door). The possibilities are endless or if you want your own one-of-a-kind outdoor Christmas decor, you can diy your decorations for your display.
Whether you go full out or keep it minimalistic, outdoor decor will give you a greater appreciation for your winter landscape and extend your curb appeal into the snowy season. Plus, there are many local Christmas markets and local small businesses that can supply you with all the materials you need to transform your home just in time for the holiday's:
Local Christmas Markets in Prince Edward County & Surrounding areas:
The Red Barn Christmas Market - The Eddie Hotel & Farm
Mackinnon Brothers Brewing Holiday Market - We ask that guests bring a non-perishable food item for the local food drive, any cash donations will be donated to Sandy Pines Wildlife Centre.
Local Business in Prince Edward County:
Wellington & Picton Home Hardware
Green Gables Gifts - Bloomfield