The old saying goes "you can't judge a book by its cover" but in this case a home's curb appeal plays a pivotal role in setting the tone for the entirety of the house and property. If your home's curb appeal makes an admirable and long lasting impression, everyone who passes by or even potential home buyers will be eager to see the beautiful environment that lies within. That is why it's so valuable to enhance the overall look of your front yard, and let's be honest with ourselves, who isn't a sucker for a great cover?
Sometimes when homeowners are designing or renovating their dream house the landscape around their property can be an afterthought, but a beautifully designed house is nothing without a gorgeous and lush landscape to frame it (See above photo for example). Although landscaping is a big investment it's worth your $$$ because it can an add a substantial amount to the resale value of your home, and if you don't plan on selling in the near future landscape features such as trees and well designed gardens only get better with age which is beneficial to have in the long run if you do decide to sell (and it will make your property look and smell amazing for your own enjoyment! It's a win-win situation!). So here are some ways you can enhance your homes curb appeal with landscaping:
1. Lush Gardens and Grass
Gardens and lawns are often at the forefront when it comes to first impressions, plants varying in size, shape and colour and healthy dark green grass paints a beautiful visual for people passing by and if done right can enhance the overall look and aesthetic of the house. It's also important to note that maintenance plays a key role in increasing curb-appeal such as replenishing the mulch in your gardens every year and proper lawn care in order to maintain a wellook.
2. Landscape lighting
Lighting is the cherry on top of a beautiful landscape. It can be used to accent and illuminate trees and garden beds or as a way to light up pathways that lead you up to the house, not only is it visually appealing to see in the evening hours but it also sets a mood and is great for safety purposes.
3. Well designed & constructed walk-ways
Nothing says 'welcome' like a grand walk-way that leads you up to the front door. Whether it's a straight clear path or a curvy meandering walk, a well designed and constructed walk-way can take your curb-appeal from blasé to jaw dropping! Making the journey up to your front door enjoyable for you and anyone who visits.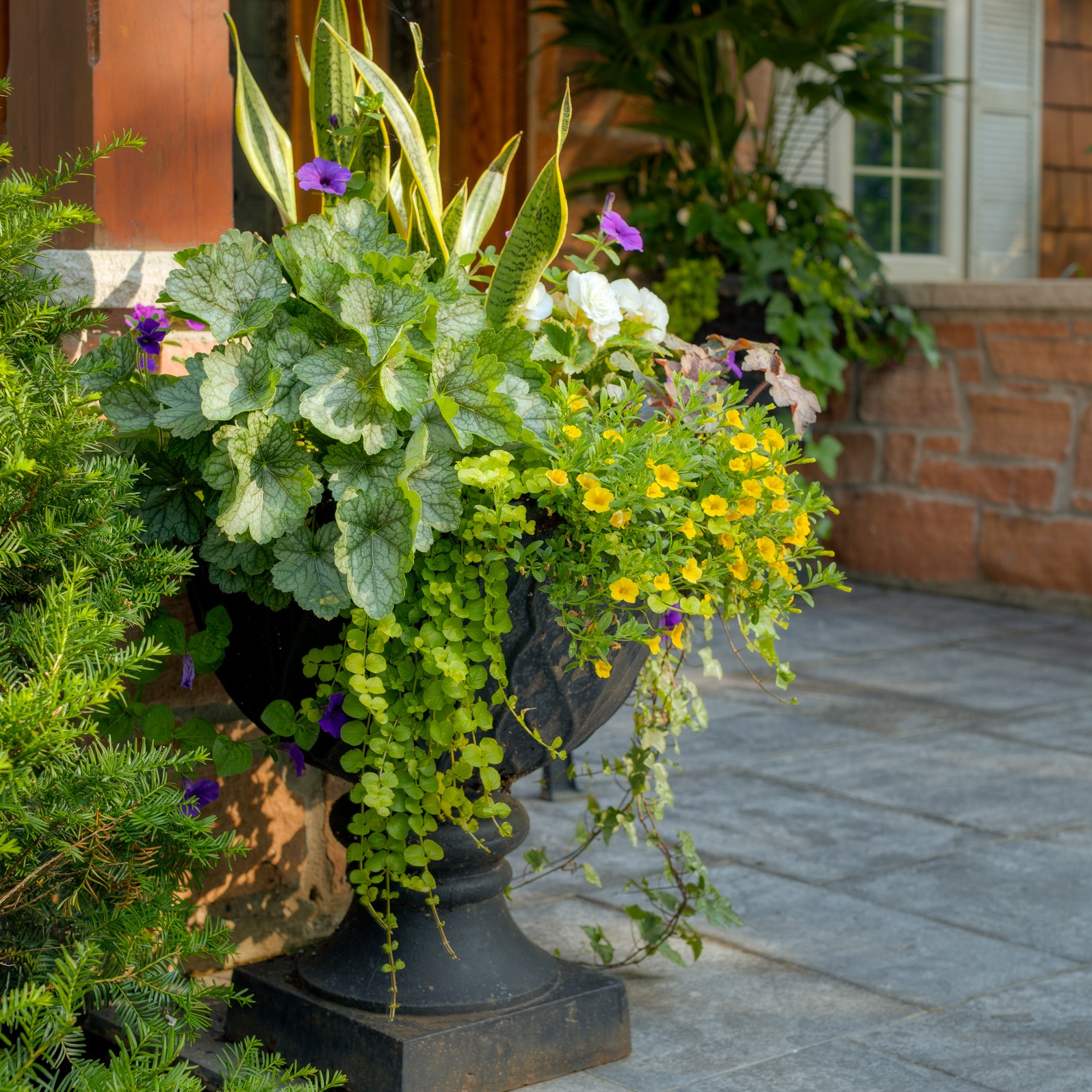 4. Planters
Decorating the front of your house with planters is a great way to add colour and charm to your front step/porch. There are different types of planters you can use to decorate such as hanging planters, window ledge boxes or stand alone planters. They are also perfect for seasonal/holiday decoration by changing the flowers that are suitable for the season.
5. Trees
A landscape is not complete without a few trees or more, on top of the long list of benefits trees provide for your home and property they are simply beautiful! Trees are the perfect way to draw the eye because they add height and balance to your property. Without them your yard may look empty and lack visual interest.