Designing for outdoor living means designing for functionality, not just beauty. Spending time out in nature is a sure way to improve your health and overall happiness but we understand it can be a challenge to leave the comfort of your own home. You have your kitchen, comfy furniture, a tv… But guess what? You can have all of those things outside too! Here at Wentworth Landscapes that's what we do best - creating beautiful and welcoming spaces that just make you want to be outside! Outdoor living is the motivation for many of the landscapes we design and build. Combining beauty and function not only allows our clients to enjoy the views of their new landscape, it also prompts them to utilize their outdoor space more often! If you are interested in extending your home's features outside for the perfect outdoor living space here are some great ways to achieve this!:
Outdoor dining:
Food tastes better when it's enjoyed outside. It just does. On those warm summer evenings surrounded by beautiful scenery, the sounds of nature and fresh air creates a pleasant dining experience. Although the outdoors already provides a comfortable and soothing ambiance there are ways you can enhance your outdoor dining area to make it even more inviting.
Lighting
Incorporating lighting into your outdoor dining area is perfect for those late evening dinners, whether it's string lights draped across a pergola or a combination of various landscape lights casting a glow on your patio, adding a cozy warm glow creates a welcoming atmosphere for the perfect dining experience.
Table Decor
Hosting a backyard party or a fancy dinner date with your partner and want to give them a dining experience to remember? The addition of table decor and outdoor dining accessories is the easiest way to enhance the overall look and vibe of your dining area without having to reconstruct your whole landscape. Adding small elements such as, placemats, candles, flower arrangements and outdoor dishware can make the biggest visual impact for your guests.
Protection (screened in area)
The last thing you want while enjoying a meal is having bugs flying around your drinks and food. Not only is it distracting for you and your company, it can also become a safety issue if wasps try and land on your food or drinks.
Outdoor Kitchen:
Prepare and serve up a meal to your family/guests while enjoying the natural environment around you by incorporating an outdoor kitchen in your landscape. Extending home features outdoors such as outdoor kitchens, is a great way to promote spending time outside and it even increases your properties value. Here are some ideas for the perfect outdoor kitchen!
BBQ / Stove
Keep it simple with a BBQ or really up the ante with a full stove top. Or perhaps if somewhere in the middle is more your style opt for a bbq with an attached element for one or two pots and pans.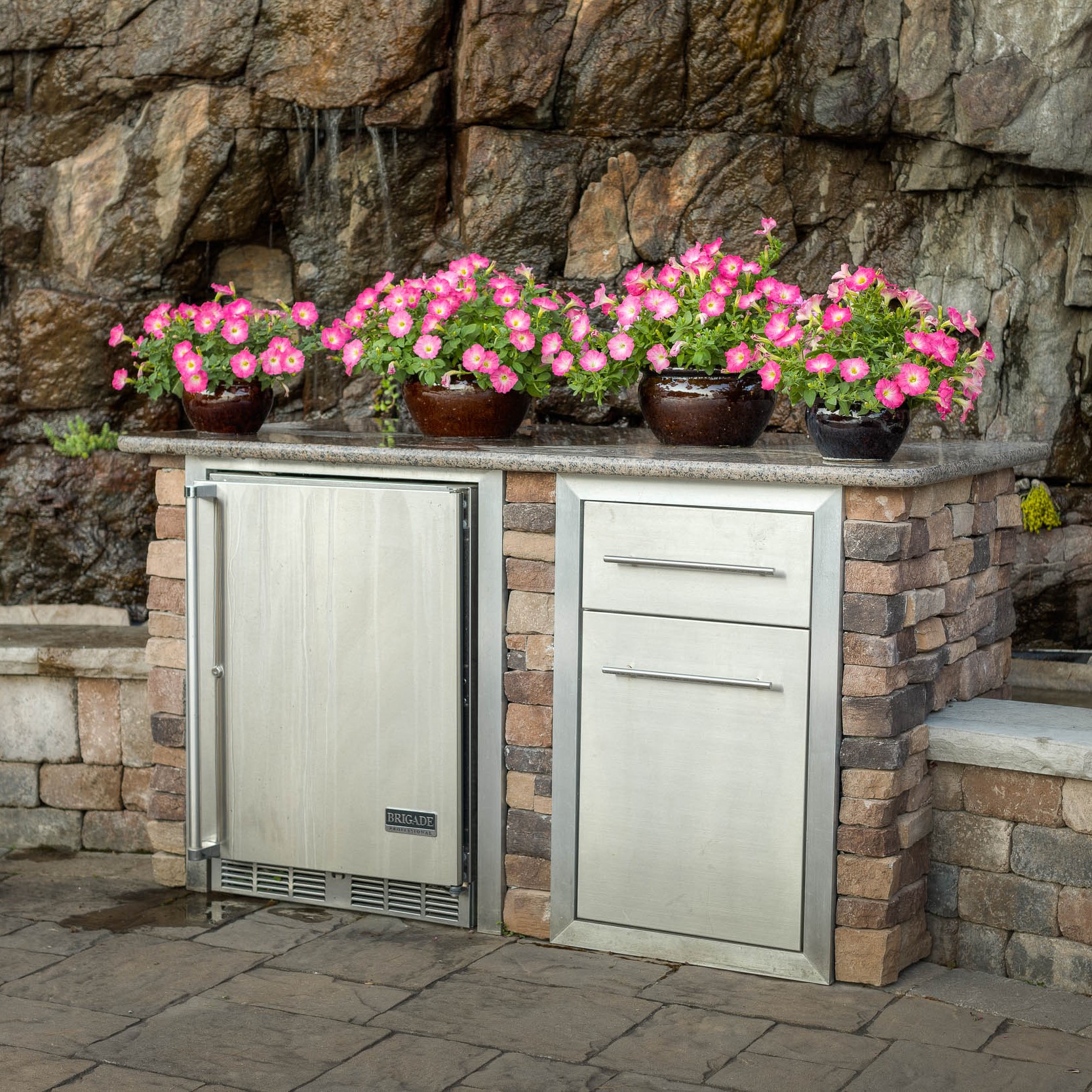 Storage / Fridge
Including storage in your outdoor kitchen space is great for convenience, storage such as cabinets for your dishware and cutlery or fridge for your food and drinks. These features allow you to have a fully equipped area and can save you the hassle of making multiple trips in and out of your house. Plus it keeps the dirt outside where it belongs!
Counter space:
A kitchen is not complete without counter space so why would an outdoor kitchen be any different? Incorporating a station for making food and drinks is great for get-togethers so you can entertain outside while doing the prep work, no need to be isolated inside while your company waits.
Sink/dishwasher:
This small detail can make all the difference during clean up, instead of hauling a bunch of dirty dishes back into your home installing a dishwasher or sink in your outdoor kitchen can be a huge time saver.
Seating area:
Your outdoor space should be just as cozy and inviting, and visually appealing as the comfort of your own home, (if not more!) So have fun with your patio by customizing and tailoring your outdoor space with visually stimulating features. Here are some ways you can achieve a cozy outdoor living space:
Fire Features
Some of our best memories in life include summer campfires with tasty s'mores. Incorporating fire features in your landscape is not only great for extending your time outdoors into the evening, they are also great for making valuable memories with friends and family.
Lighting
Landscape lighting is great for adding depth and ambiance to your landscape after the sun sets, but it's also a great way to enhance the mood, and extend your outdoor living time into the evening hours.
Decor/ furniture
Furnishing your outdoor living area is as important as furnishing the inside of your home. The comfier and more inviting you make it the more it will be used. The best part about furnishings is that they are easy to change as your personal taste changes. Some things we love to include are a combination of couches, chairs, and chaise lounges for a variety of seating options in different areas of the outdoor space. Throw a few cushions and blankets on them for extra comfort. Artwork, rugs, and decor such as planters can also add to the overall ambiance and aesthetic of the space and get you lusting after your outdoor space all day long.