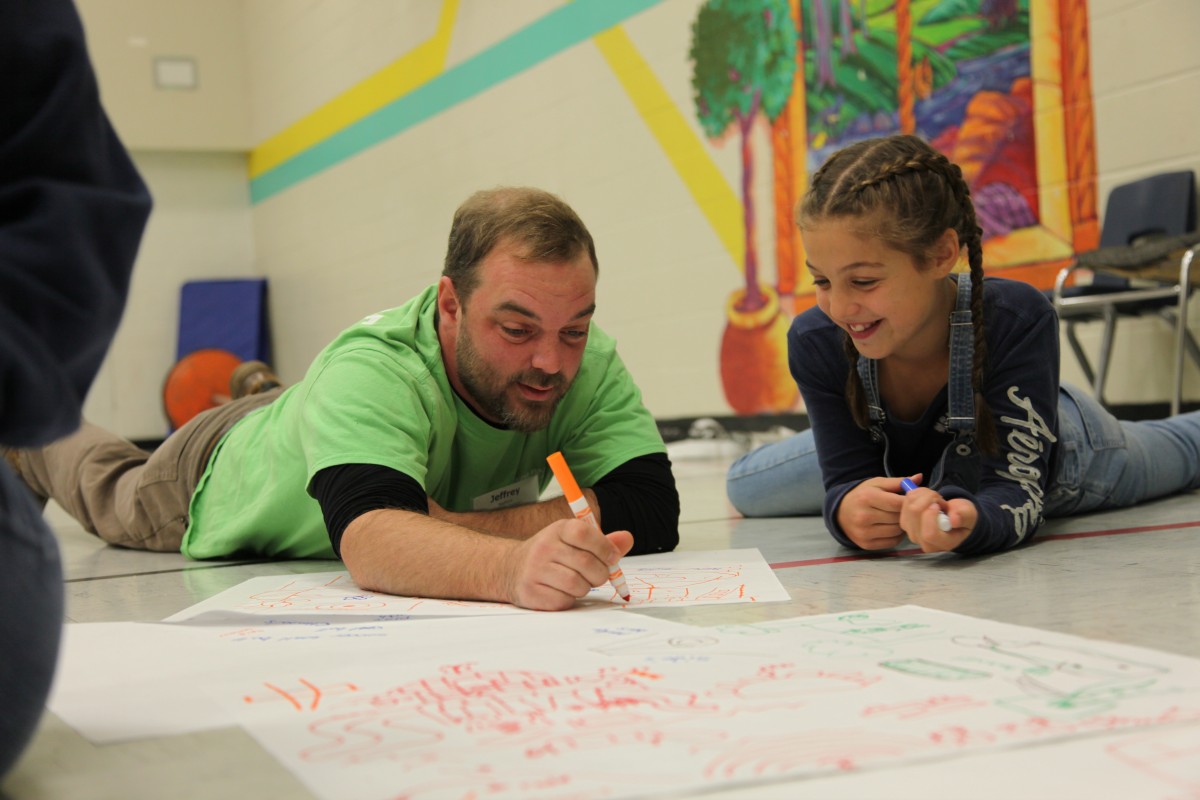 What is your favourite childhood memory? Was it sitting in your family room watching tv all day or was it going to the park to catch frogs in the stream? Maybe it's climbing your favourite tree in your yard and seeing how much higher you can get each time? What about going outside after it rains to make mud pies and try to convince your parents it's chocolate? Whatever it may be we bet your favourite childhood memories took place outside. And that's the fuel that drives Come Alive Outside.
For the first time ever this generation of children is expected to live 5 years less than their parents. Come Alive Outside is on mission to get people off the couch and back into their communities. One of the ways they are doing this is through the Design Challenge.
The Come Alive Outside Design Challenge creates the opportunity for college, high school, elementary and preschool students to work together with landscape professionals to design and build engaging outdoor learning environments at schools and childcare facilities.
This year, Wentworth Landscapes hosted its third annual Design Challenge at Georges Vanier Catholic Public School in Belleville, where there is also a First Adventure Childcare Development Centre. The post-secondary schools participating include Guelph University, Algonquin College, and Niagara Parks School of Horticulture. A handful of students from each of these schools in the Landscape Design programs or similar, join us for a three-day design charrette. The students must design a plan for the entire schoolyard but phase one will be the First Adventure component with a budget of $60,000 to be built in 2019.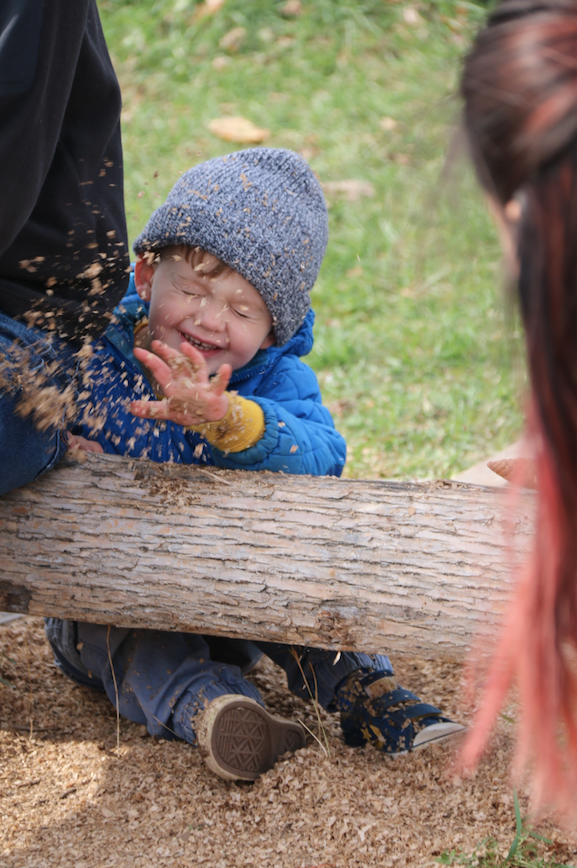 The event starts with a tour of another First Adventure Campus that Wentworth had previously designed and built so the post-secondary students can see how children move through and use the space. The rest of the evening is spent learning about the program, the why behind it, and getting inspired to create imaginative spaces for children to get excited about going outside.
Day two, the post-secondary students are taken to the schoolyard at Geroges Vanier to tour the site and gain insight as to how the schoolyard is currently being used, what the teachers think is missing, what's important to the students, and even observe the children in their space. But who better to dictate what should be in the schoolyard than the children themselves!
Following the tour, college students move inside to start initial design concepts with pre-kindergarteners through eighth graders. This is one of the most inspiring components of the Design Challenge as you see imaginations run wild! Students are sprawled across the floor with big sheets of paper and markers, college students right there with them unafraid of getting down to their level to imagine the space with them. The children are drawing zip-lines, tunnels, and obstacle courses with trampolines, sandpits, and Big Foot! Having all the elementary grades be part of the Design Challenge is so important because students of different age groups bring unique outlooks and experiences on the playground.
On the flip-side, college students are being exposed to real-life experience. They have a real space to design with real challenges, there is a budget and design criteria to adhere to, real clients, and above all a real outcome.
Once the younger students return to their classrooms the college students begin working through the children's sketches asking themselves "what are the main components?" For example, was it the zip-line? If so, what is the why behind that piece? What is the feeling that gives to the children? And, how can we apply that in a way that adheres to playground guidelines.
Another element design students must also consider is that they create an experience in which children of all abilities can use and grow their skills. Some students are non-verbal, others have physical challenges. How can we give all children an equal experience and give those with challenges an opportunity to communicate or move in ways they know how? From there, students refine these concepts and start thinking about material selection. One concept might be a sensory pathway system made up of many textures and colours that allows all students to access every part of the schoolyard. Another feature could include a way of tying play features back into curriculum, such as an outdoor classroom made of boulder seating that can also be played on at recess.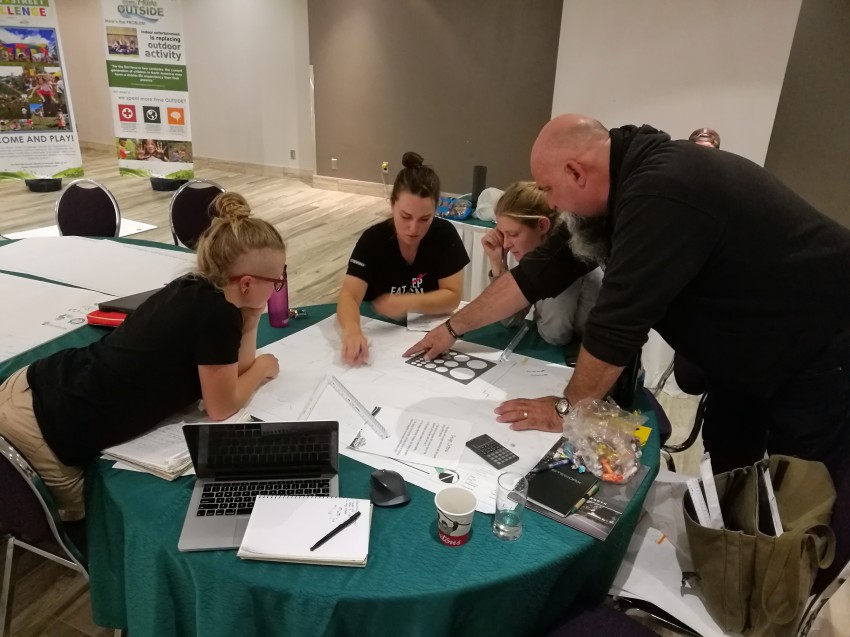 By the third day of this challenge the design students, working in their groups, must complete a finished site plan which will be displayed at an open house. On Saturday, October 20th, roughly 300 people from Georges Vanier and the community came through the open house to view and vote on their favourite overall design as well as their favourite components of each by using coloured stickers (see photos below).
Following the intensive three-day event each college and university will return to their schools and put together their final designs and submission packages, due on December 3. Wentworth Landscapes, Georges Vanier, and First Adventure will go through the submissions and select a winner that will be announced on January 8, at the annual Landscape Ontario Awards of Excellence.
As a company whose mission is to get people outside loving their outdoors to boost the overall health and happiness of our communities this event is energizing and exciting. It's a thrill to see the original canvas reimagined through the fresh and creative minds of passionate students. It's an opportunity for us to learn how young and aspiring designers approach spaces differently.
The Design Challenge is such a wonderful program because "it actually gets at the heart of what we do as horticulturalists and landscapers because it's tied into more than just beauty, says Tony Digiovanni, Executive Director of Landscape Ontario. "This actually gets into how people interact with nature and what the ultimate purpose of what we do for a living is- to make things better for people and to leave a legacy for generations to come."