Blurring the lines between indoors and outdoors:
Out of the 12 months of the year we often get a maximum of 4 months of consistently warm weather in Southern Ontario. If you're anything like us we love to take advantage and get outside and enjoy the gorgeous weather as much as possible. One of the best ways to encourage outdoor living is by creating a comfortable and relaxing space outdoors. Designing an outdoor living area to be an extension of your indoor living space is the perfect way to make your yard feel just as homey as your interior, and thus more likely to spend time in it! Here are some ways to achieve a desirable outdoor space.
1. Create a Flow with Décor and Furnishings:
Incorporating décor and outdoor furniture is a crucial part of creating an inviting exterior space. Just like your interiors try designing a space that includes sofas and comfortable chairs; compliment these furnishings with décor such as; an area rug, throw pillows and potted plants - and yes you can get outdoor versions of all of these items that don't look like they came out of your grandmas sunroom! Feeling more traditional? Go with a neutral rattan, want more of a modern vibe? Try a stained deep seat wood frame couch with a solid colour for the cushions.
2. Lighting
The addition of warm lighting in your exterior space is the cherry on top of a comfortable living area. Create a welcoming glow with string lights, lanterns or a decorative chandelier, Or really up the ante with built-in mood lighting. Like this hot tub privacy screen with built in pot lights. Add downlighting and uplighting on your trees to create depth, define your property, or frame your outdoor living room.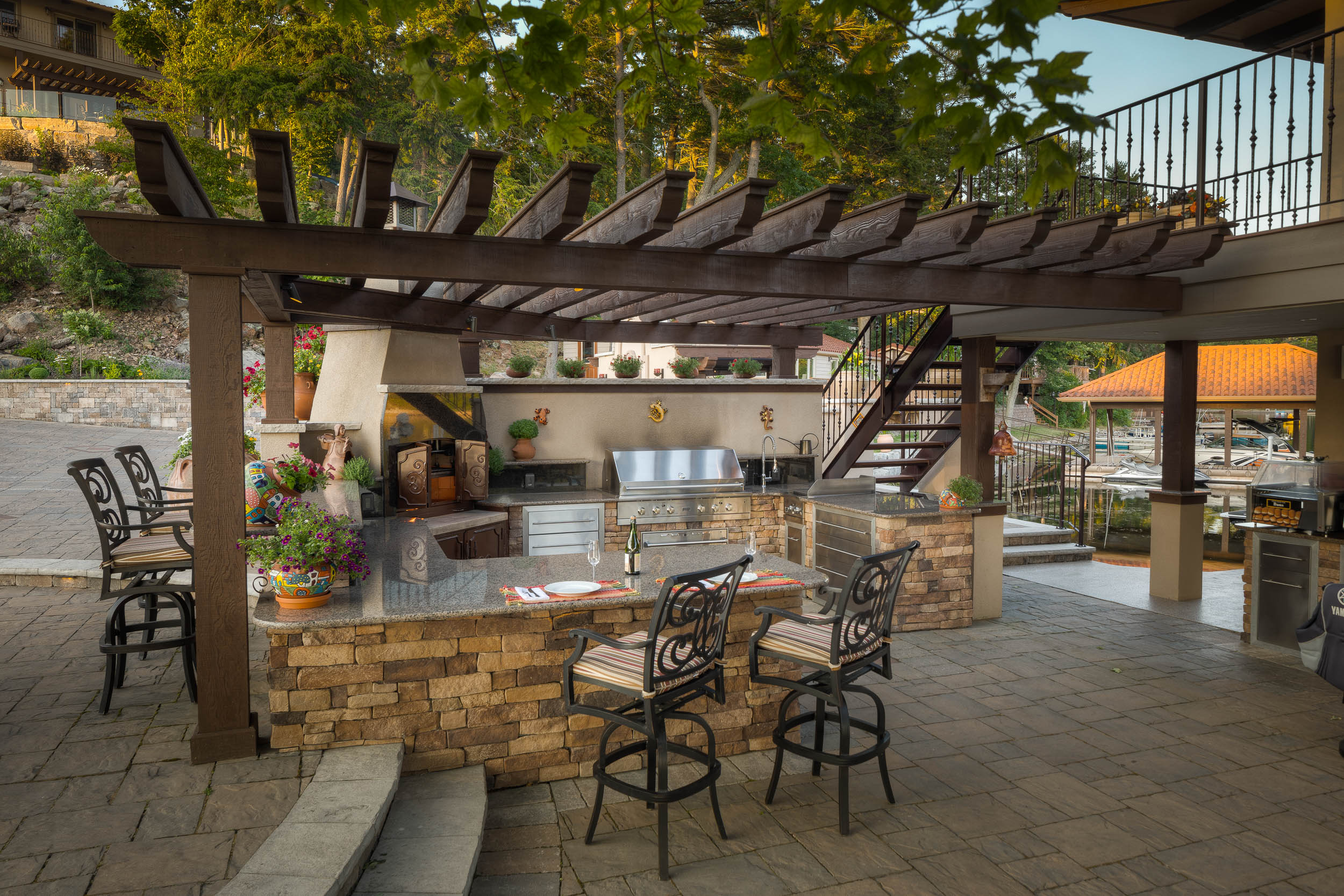 3. Functional Spaces
A great way to blur the lines between your interior and exterior spaces is by introducing functional areas that you would typically find indoors. An outdoor kitchen and dining room is the perfect place for entertaining on a warm summer evening, including a prep station, barbecue grill and sink for dishwashing. Another functional element to add is an outdoor shower. If you live on the lake or have a swimming pool, having an outdoor shower is a perfect way to rinse off after a leisurely swim.
4. Shelter
When the weather is not ideal or on a scorching summer day having protection from the elements is a crucial component to your outdoor space. The addition of a pergola or even a screened in area will allow you to continue enjoying the outdoors even on those days when the weather is not so inviting.