Was it the beautiful weather; the advertising; the Come Alive Outside messaging resonating with more and more families; the prominence of the event growing each year; the desire for time spent in nature? Whatever it was, this was the biggest turnout the Picton Green Street Challenge has ever seen!
While we don't have exact numbers, we hazard a guess that the sodded portion of downtown Picton Main Street welcomed over 4000 people this year.
July 1st, 2019 marked the ninth annual Come Alive Outside Green Street Challenge in Picton. Since its first year in 2010, the event has grown and sparked a slew of other Green Street Challenges to pop up all over Canada and the United States.
The Green Street Challenge came about as a fun and hands-on way to reconnect children with nature and raise awareness about how sedentary our lives have become as we orbit around our various screens. Sometimes it's a wonder how we haven't forgotten where our front doors are… .kay, that's an exaggeration, but current health stats about Westerners wouldn't necessarily put up a strong argument against that.
I digress. The Green Street Challenge, in all its unusual and unexpected presentation, encourages unstructured play. It's just one initiative of the broader Come Alive Outside organization. As an organization, of which Wentworth Landscapes is a founding member, they aim to get communities back outside to live healthier lives. The organization bases itself on five powerful yet simple principles:
Get active outside.
Grow something you can eat.
Learn with your hands in the soil.
Connect with nature.
Play unplugged.
You might see these themes recurring more and more in the news as there's a growing trend of backyard vegetable gardening, retreats promoting electronic disconnection and even Apple devices allowing you to set your own time limits for time spent on your mobile devices each day. There's a growing concern for our mental and physical well-being as it relates to our use of technology and indoor lifestyles.
Events like the Green Street Challenge hope to combat this concern by reigniting that passion for the outdoors we all inevitably have in some way or another. While the event typically sees children playing on the grass while parents and adults watch from the sidelines, this year there were almost more adults than there were children on the grass.
Our internal pull to nature cannot be underestimated, at any age. While children still ran around, kicked soccer balls, climbed through the tunnel, or climbed on top of the tunnel, the adults were enjoying the sod in all its green pleasantness among the concrete buildings and asphalt roads.
Each year, the event grows, building on existing elements and incorporating new ones. This year the Picton Green Street Challenge had two craft elements, one to build your own sun catcher, the other to get your face painted, of which many children lined up but seemingly disappeared amidst the sea of Batmans, Spidermans, butterflies, cats, and even a few Pikachus! We think they all magically reappeared after bath-time…
A large tunnel was installed with climbing and sitting elements around it. There was a giant (yoga ball-sized) soccer ball that children enjoyed clumsily rolling up the hill atop the tunnel and letting it roll down as they raced alongside it. There were regular soccer balls too, of which 7 were being kicked around at any given time.
Local artist, Marc Keelan-Bishop, created an interactive chalk art installment of Mother Goose turned into hopscotch. https://www.ideomedia.com/eng/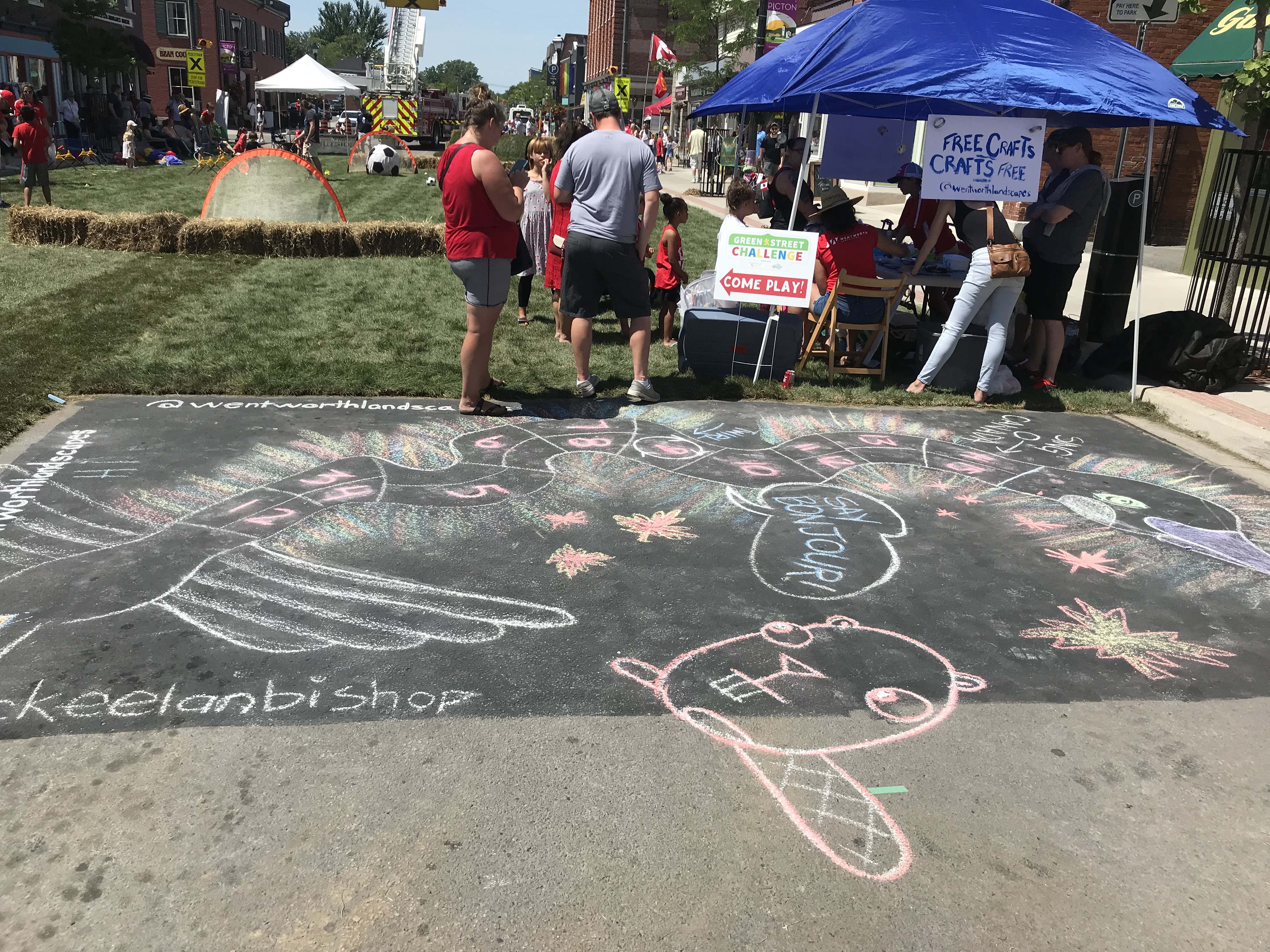 And of course, there was the ever-popular rainbow parachute, which has become an icon of the event.
After nine years and a solid group of committed volunteers, the day's production has become relatively seamless. None of that ease would come without all the wonderful sponsors and volunteers.
The day begins with the Picton Fire Department spraying down the street where the sod will be laid in an effort to cool the tarmac to help the sod survive the day (we donate the sod afterward). Wentworth Landscapes then lays the landscape fabric, generously donated (sponsor wishes to remain anonymous). Willowlee Sod Farms comes fully prepared with a truck full of sod, employees, and all their equipment to roll out the sod in what seems like record time each year!
Then it's time for staging. Hay bale seating is donated by Gary Parks and is always greatly appreciated by everyone, especially when the event lands on a day that's 31 degrees! Picton Home Hardware generously equipped us with craft supplies for the sun catchers. And Landscape Ontario continues to support this event as a Come Alive Outside member, themselves and eagerly shares their resources to ensure we are fully stocked in the games and signage department.
Event planning, staging, and manning the event is a team effort of Wentworth employees, their families, and friends who selflessly volunteer their time each year.
Of course, this event wouldn't exist in Picton without the incredible support and organization by the Picton BIA and The County for closing down Main Street for a Canada Day celebration each year.
Thank you to all our sponsors, volunteers, and supporters for the continued success of this incredible production.