As we slowly approach 2024, the world of home renovation is evolving rapidly, and basement renovations are no exception. Basements have long been underutilized spaces in our homes, often relegated to forgotten corners or used for storage. However, in recent years, they've gained popularity as areas for functional living spaces, transformed into family rooms, entertainment spaces, or even additional living spaces. If you're considering a basement renovation in 2024, it's essential to stay up-to-date with the latest trends to create a stylish and functional space that suits your needs. We'll explore some of the exciting basement renovation trends for 2024 that can transform your underground space into a beautiful and practical part of your home.
1. Stylish and Functional Storage:
Basements are often used as storage areas, but in 2024, the focus is on stylish and functional storage solutions. Built-in shelving, customized cabinets, and under-stair storage can help keep your basement clutter-free while adding to its aesthetic appeal.
2. Japandi Aesthetics
Japandi style is gaining prominence in interior design, and it's also making its mark on basement renovations. This fusion of Japanese and Scandinavian design principles focuses on simplicity, functionality, and a harmonious connection with nature. In your basement renovation, you can incorporate Japandi elements by using clean lines, a neutral color palette, and natural materials like wood and stone. Furniture with a minimalist, yet comfortable design, can create a serene and inviting atmosphere. This style promotes a sense of calm and tranquility in your basement, making it an ideal choice if you're seeking a Zen-like retreat or a space for meditation and relaxation.
3. Bar and Entertainment Areas
Entertaining spaces are an essential aspect of basement renovations. Creating a bar area with stylish seating, a wine cellar, and game tables allows homeowners to host gatherings in a relaxed and enjoyable atmosphere. These spaces can also serve as the ideal hangout spot for family and friends.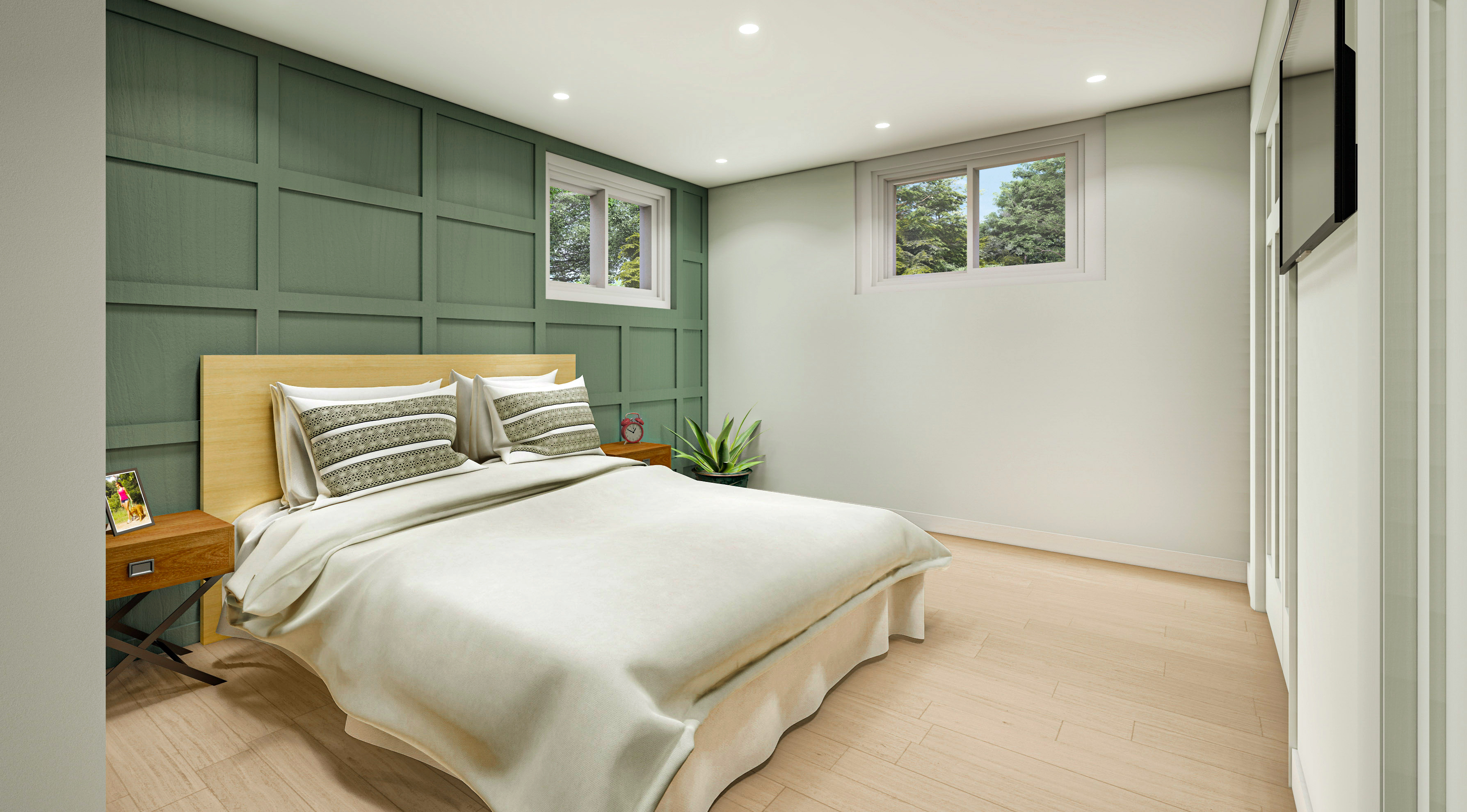 4. Bold Colour Palettes:
Don't be afraid to add a pop colour in your basement renovation. While neutral tones are classic and timeless, bold and vibrant colour palettes are gaining popularity. Deep blues, rich greens, and warm reds can create a cozy and inviting atmosphere in your basement.
5. Home Theaters
Streaming services have revolutionizing the way we watch movies, many homeowners prefer to watch movies from the comfort of their home instead of venturing out to theaters. That's why there is a desire for a cinematic experience at home, and basements present an ideal setting for crafting a specialized movie-watching area, given their lack of natural light. Incorporate Comfortable seating, high-quality audio-visual systems, and design enhancements for a top-notch home theater.
6. Modern Aesthetics
Modern design remains a frontrunner in the world of basement renovations. This aesthetic places a strong emphasis on clean lines, functionality, and a contemporary feel. The use of polished concrete floors not only adds an industrial touch but also brings a sense of sophistication to the basement. These floors are not only stylish but also easy to maintain, making them a practical choice for high-traffic areas.
7. Home Gym
Home gyms offer convenience and flexibility, and this is why people are turning their basements into personal workout spaces. This trend is especially relevant in a post-pandemic world where more individuals are choosing to exercise from the comfort of their homes.
Whether you're looking to create a multifunctional space, a home theater, or a cozy retreat, these trends will help you transform your basement into a modern and functional area that adds value to your home.