Fireplaces
Get Cozy A favourite down-time destination.
Who doesn't love to cozy up in front of a crackling fire, for an enchanting setting with a loved one or a warming glow at a party. It's a feel-good feature for any backyard.
Down
Fire for All Seasons
An outdoor fireplace is great for extending the use of your backyard space. Think spring brunch by the fire when you can't wait to get back outside, a warm gathering place on a cool summer evening or roasting marshmallows with the kids on a brisk fall day. Even a welcome place to get warm after a winter skating party! It's a sure part of some great memories!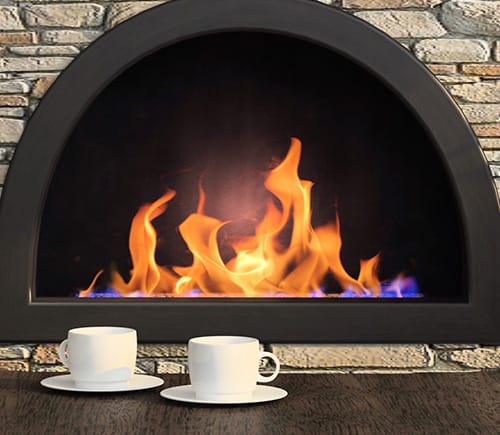 Natural Gas
For a fire anytime with minimal effort, a natural gas fireplace can make for a beautiful setting at a moment's notice.
Wood Burning
For the fire purist, nothing beats wood burning. The wonderful smell, the crackling sounds, the unparalleled beauty…
Light Your
Perfect Fire
There are so many features available for outdoor fireplaces today – components that make sitting by the fire a truly luxury experience.
Mantles and Hearths

Bring the indoors out with a substantial mantle surrounding your fireplace. Available in a range of styles, from rustic lodge to modern gallery.

Glass Doors

Doors give a fireplace a finished, polished look while providing a very real safety factor, especially if there are young ones around.

Built-in Wood Storage

Don't think of wood storage area as a purely rustic effect – this very practical idea can look ultra contemporary too.
Sunken Fire Pits
Backyard fun, day or night, with a getaway feel! What a great focal point for having friends over for the evening or roasting dinner over the fire with the kids. Sunken fire pits can be a relatively low cost feature with a big effect.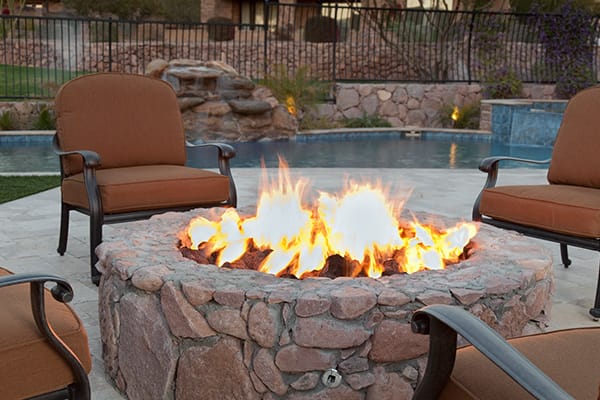 Raised Fire Pits
A more sophisticated option, raised fire areas can take a multitude of forms. Troughs of fire, displays mixing fire with water and tapered lines of fire are some innovative options, but almost any configuration is possible. Let's discuss the possibilities!
Other Ways to Stay Warm
Heating Tables

Heating tables deliver the enchanting effect of fire in a more contemporary format.

Outdoor Heaters

Why not have a valuable source of heat that also functions as a beautiful accessory to your outdoor area?

Steel Fire Features

Fire elevated to an art form, creative fire features can be custom designed and commissioned for a backyard statement piece whether it's in use or not.

Fire Bowls

One of the most practical options for including a fire area in your backyard. Easily transportable, minimal maintenance and no permanent construction required.
Ready to spend more time outside?
If you're ready to start on your project, call 613.476.1181, email [email protected], or fill out the form below!